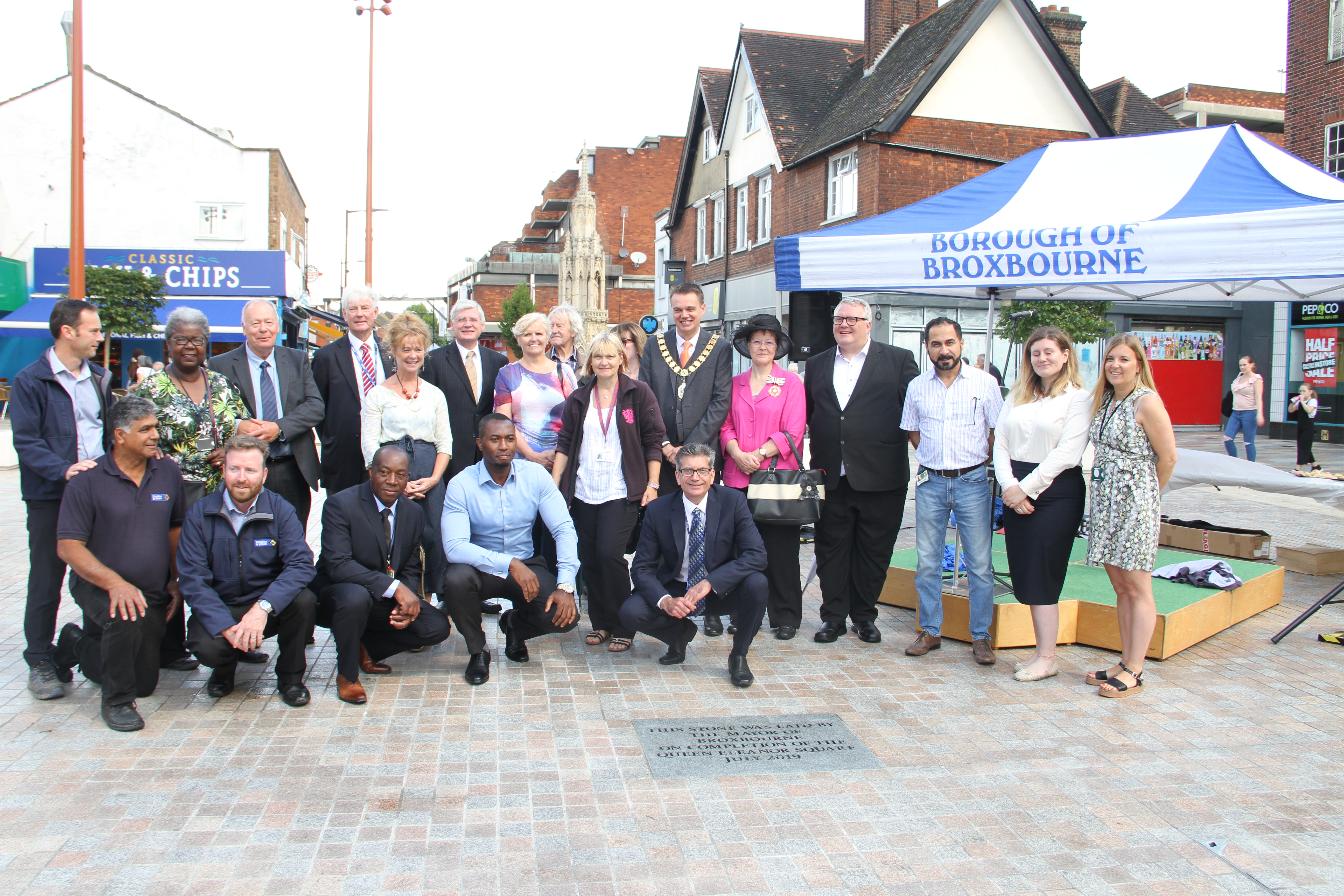 An opening ceremony was held in Waltham Cross town centre on Friday 9 August, from 10.30am, to mark the completion of the much anticipated new town square.
An opening ceremony was held in Waltham Cross town centre on Friday 9 August, from 10.30am, to mark the completion of the much anticipated new town square.
The Mayor of Broxbourne, Cllr Steve Wortley, unveiled a memorial stone to mark the completion of the scheme and the name 'Queen Eleanor Square'; chosen by local residents. The historian and theatrical storyteller Sue Macmillan gave a brief insight into the fascinating life of Queen Eleanor and her husband King Edward I.
Guests in attendance included the Deputy Lieutenant Dr Sarah Coffey, local councillors, representatives from Hertfordshire Local Enterprise Partnership (LEP), shopkeepers, and community representatives. Members of the project delivery team were also in attendance to answer any questions.
The construction of Queen Eleanor Square, which began in January, was led by the civil engineering contractor Danaher and Walsh, and was jointly-funded by Broxbourne Borough Council and Hertfordshire LEP, as part of the Council's wider regeneration scheme for the area.
The project marks the start of the Council's long-term strategy to deliver social, environmental and economic regeneration for Waltham Cross, by creating a more inviting town centre to boost the area's profile as an attractive place to live and work, while making the most of its prime location and transport links into London.
The total cost of the project was £1.36m, with Hertfordshire LEP contributing £678k from the Local Growth Fund.
Adam Wood, Head of Infrastructure & Regeneration at Hertfordshire LEP, said:
"We are delighted to support the transformation of the once congested, traffic-dominated heart of Waltham Cross into a vibrant new pedestrianised area for the whole community to enjoy. The new Queen Eleanor Square is a celebration of the market town's unique and fascinating history, and provides scope for a whole host of place-making events to boost the town's profile, increase footfall to businesses and support the local economy."
Minister of State for Local Growth, the Rt Hon Jake Berry MP, said:
"This government is committed to boosting economic growth across the whole of the UK and ensuring every community has the support and investment it needs to flourish.

"That's why I am delighted to see the completion of the new town square in Waltham Cross, thanks to a £678,000 investment from the Government's Local Growth Fund.

"This new traffic free zone will not only provide an attractive new focal point at the heart of the community, but also increase connectivity between Waltham Cross and Enfield, helping to drive footfall and new business to the town."
The new town square, which tells the story of Queen Eleanor's funeral procession in 1290 from Lincoln to her final resting place in Westminster Abbey, has been designed with town centre events in mind, of which Waltham Cross hosts many. Upcoming events that will be held in Queen Eleanor Square include the Queen Eleanor Cycle Ride, and farmers markets every third weekend, commencing in September.
For further information on Broxbourne Borough Council's regeneration projects and events, residents can visit www.broxbourne.gov.uk, call 01992 785577 or follow the Council on Facebook.com/ThisisBroxbourne, Twitter and Instagram @BroxbourneBC.
Notes to editors:
The scheme was designed by Arup
The contractor is Danaher & Walsh Civil Engineering
The project was project managed by WSP.
About Hertfordshire Local Enterprise Partnership
Hertfordshire LEP is one of 38 Local Enterprise Partnerships tasked by the Government to drive forward economic growth. We work with private and public sector partners to tackle barriers to growth and to ensure that our people, places, and businesses thrive.
With our Strategic Economic Plan, we have successfully secured over £300m Government and EU funding to date to support our three key priorities which include Strategic Infrastructure, Skills & Employment, and Enterprise & Innovation.
Find out more about our investments to date at www.hertfordshirelep.com.
Local Growth Fund
Local Enterprise Partnerships are playing a vital role in driving forward economic growth across the country, helping to build a country that works for everyone.
That's why by 2021 Government will have invested over £12bn through the Local Growth Fund, allowing LEPs to use their local knowledge to get all areas of the country firing on all cylinders.
Some additional key facts:
There are 38 LEPs covering the whole of England
The government has awarded £9.1bn in three rounds of Growth Deals to local areas to drive economic growth.
LEPs are investing in a wide range of projects including transport, skills, business support, broadband, innovation and flood defences.