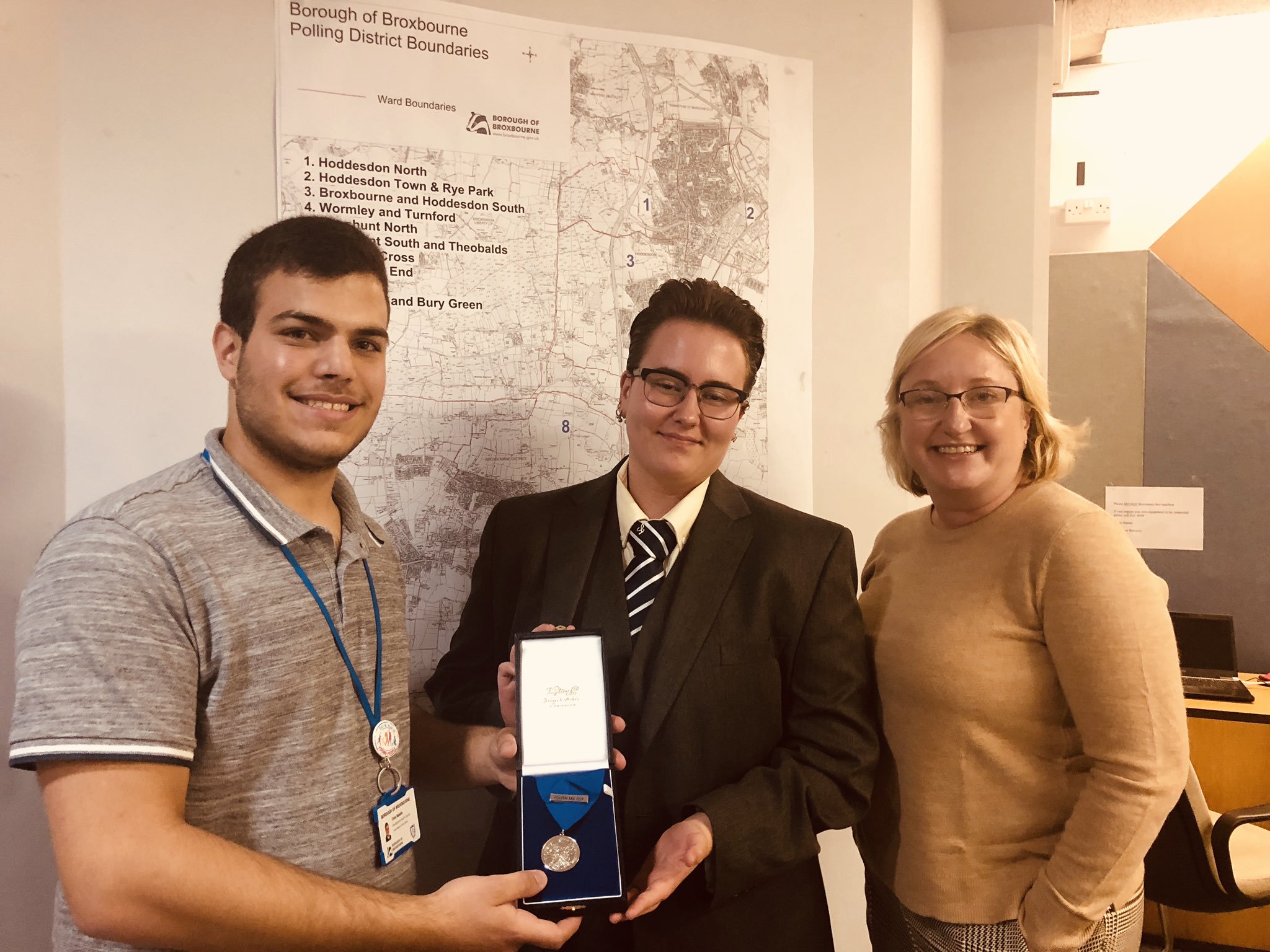 Broxbourne's Youth Council had their annual elections on Wednesday 25 September, and a new Youth Mayor was elected.
Broxbourne's Youth Council had their annual elections on Wednesday 25 September, and a new Youth Mayor was elected.
Lloyd Evans, a Year 13 student at St. Mary's C.of.E High School in Cheshunt, was unanimously elected as the new Youth Mayor. Lloyd is studying Law, Double Business and Public Speaking. He replaces Chris Bakalis, who has stepped down to concentrate on his studies.
Ethan Yardley, from Goffs Academy, was elected as Deputy Youth Mayor for the 2019/20 academic year.
Lloyd has said, "I am incredibly pleased and proud to have been elected Youth Mayor of Broxbourne. I have clear visions of what I wish to achieve throughout the year, and I am excited to put these into practice with the help of the wonderful support network around me including Broxbourne Council, YC Hertfordshire, local schools and the variety of wonderful organisations and charities. I couldn't have asked for a better cabinet this year, I believe in the entire team and I truly think we can make some positive change for the borough. My focus this year is 'Equal Opportunities' so I hope the borough is ready for change and can benefit from my work. I want to represent the (young) people of the borough to the best of my ability, and as fairly as possible. I look forward to the upcoming year immensely."
The Youth Mayor is a young person aged between 11-18 years who is elected by fellow young people to represent young people. The Youth Mayor will contribute to discussions impacting young people, raising issues where appropriate and provide an annual report on the work of the Youth Mayor and Youth Council. The Youth Mayor will also chair the Broxbourne Youth Council. The role is politically neutral.
Elections were also held for Cabinet positions within the Youth Council. The following were elected:
Cabinet Member for Transport – Noah Tucker (Broxbourne School)
Cabinet Member for Schools and Education – Robbie Long (Goffs Academy)
Cabinet Member for Health – Luke Mobbs (St Mary's High School)
Cabinet Member for Leisure and Culture – Alicia Hall (Goffs Academy)
A new Cabinet role for the Environment was created for this academic year and its inaugural post-holder is Cindy Long from Goffs Academy. In total, eleven different young people campaigned for a role on the Youth Council Cabinet, with each of them giving a short presentation on why they should be elected, and the priorities they wish to see addressed.
Cllr Siobhan Monaghan, Cabinet Member for Housing and Community Services, also attended the meeting. She said, "I was blown away by the quality of the presentations by our Youth Council members. They were all amazing and had such positive and exciting ideas to improve the lives of young people and the communities they live in. Chris has done a great job as Youth Mayor, and I look forward to working with and supporting Lloyd as the new Youth Mayor."